Art
Art Club meets Mondays in the Art Studios for lunch (bring your lunch first). You can be a member just by showing up and contributing productively! Much of our time in the Spring is devoted to Region V Art Fest, a competitive art-making event. Tryouts for Art Fest will be during the last 2 weeks of February, and Art Club participation counts toward qualification.
Beyond Fundraising efforts, Art Club is often project based and will hold media workshops on Saturdays and Sundays and after school. You must have a participation form on file to work with us around school hours. And you must have Play for Keeps and pink-slip grades for travel approval to qualify for Art Fest.
Contact: Heather Ridgway 523-1547
heather.ridgway@juneauschools.org
April 2017 Art Fest Accolades!!
All three of the pieces Juneau-Douglas High School sent to the Alaska Tsunami NOSB 2017 Ocean Connection Juried Art Show in Seward, were recognized with awards:
Maya Araujo won 3rd place with her Animal Mashup of a turtle and a shark in the Digital/Mixed Media section.
In the Crafts and Pottery section, Laurie Balstad won 3rd place with her Cereal Killer Bowl,and Andyn Mulgrew-Truitt won Second place with her Octopus Mug
.Juneau-Douglas High School's Art Fest team returned from Petersburg Monday with accolades:
JDHS's Ericka Nebert won best of workshop in both Formline on Longboards, with Ronnie Fairbanks, and Alder Spoon Carving with Jon Rowan.
Lily Deitz won Best of Paper Light-Box Sculpture with Anne Leutkemeyer.
JD's team coach, Heather Ridgway, taught a Leather Mask workshop.
You can see all the Art Fest team members' work - Capri Potter's, Summer Putman's, Riley Stadt's, Cody Wilson's, Grace Walli's and Mari Bell's - in our Common's Display case! All team members found challenge and satisfaction in the 4 day event, applying full focus in hands-on workshops for over 9 hours a day, and enjoying Petersburg's generous community support. Next year's Art fest is scheduled for Craig. Juneau is slated to host Spring, 2019!
ASAA All-State Art Competition awards have been announced. All student work submitted can be viewed on the website: Artalaska.org.
JDHS took Honorable Mention in Ceramics with Cody Weldon's Komodo Dragon mask; Summer Putman took 3rd Place in Sculpture for her ceramic Greek Theater Expression Mask made with Jennie Rehder's English class; Mason Gallanos took 3rd place with his logo design for Juneau's Stop Heroine Start Talking campaign; and Evan Rodriguez took 2nd place in the Multicultural division for his Great Grey Owl drawing.
---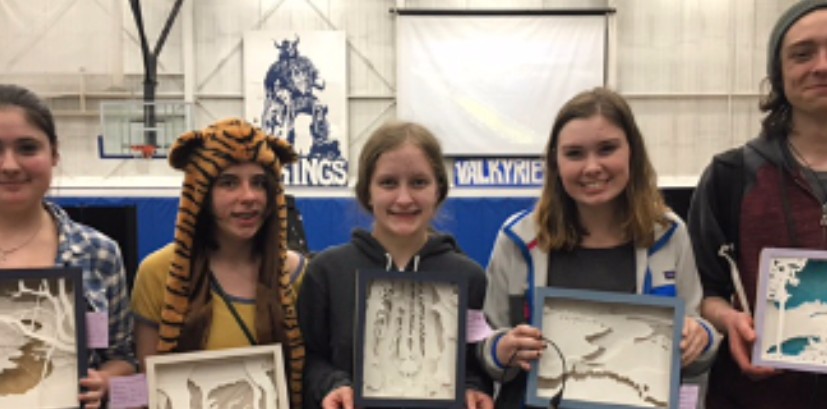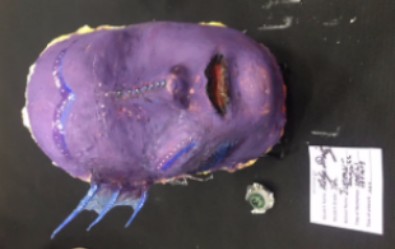 First Friday, December
The State Farm office across from IGA downtown is hosting a JDHS Student Art Show this coming First Friday! Stop by after school on December 4th and see what's been selected to represent us! December First Friday is always an exciting community event, and this is a great way to start the festive amble around town. Enjoy free nibbles & sips, take in carolers, and check out all the fresh arts and crafts for sale for the holidays! See you there!
End of Semester Art Show Final
Every semester Ms. Ridgway host a student art show as the Final in her art classes. The Show will open Wednesday, December 14 from 1:45pm to 5pm. It will be open for your enjoyment Thursday, 8:45-5:00, and Friday from 10AM - 6pm. Come see what we've been doing all semester inn Ceramics, Drawing 1 and Advanced Studio classes. Don't forget to stop at the office for a Visitor's Pass during school hours. And, you can always check out our latest works in the Common's Display cases, even during the show.
If you'd like to help host Art Fest in Juneau, 2019, by teaching a workshop, organizing the event, or housing visiting students and instructors, please contact the JDHS Art Teacher at heather.ridgway@juneaschools.org.