Battle of the Books
9 months ago
Congratulations to our JDHS battle of the books winners:
Team $nakez: Aidan Hopson, Benjamin Ng, Pablo Ortega, Kendyl Carson
Team Book Worms: Capri Potter, Aimie Mason, Adele Hagevig, Jia Jia Maas
They will advance to the district battle which will be held next week,
Feb. 16th at 11:30a.m.

JDHS library.
---
Update: February 24, 1015
Congratulations to Raven Ward, Leah Bibb, Sabrina Jones and Finn Musslewhite!
JDHS Team received 13th place out of 25 teams at the State Battle. We had fun!
The team is ready to read books for NEXT year! And THAT is what it is all about!

February 4, 2015
JDHS WINS in Juneau!
Leah Bibb, Sabrina Jones, Raven Ward and alternate Finn Musslewhite will represent Juneau School District in the
State Battle of the Books battle on Tuesday, February 24th.
If you see these students in class or in the hallways---congratulate them all on a job well done!
They have read and reread 12 books from the high school level list and have attended weekly meetings where they answered practice questions about the books since September!
Proud of our Crimson Bears!
J-BIRD News
12 months ago
The JDHS J-Bird is a student-led newspaper covering various events within JDHS and the Juneau community. As the voice of JDHS, the J-Bird promotes student engagement and self-enrichment through different forms of writing, artwork, and photography.


If you like writing, drawing cartoons, photography, editing, or even graphic design, talk to our student advisor.
J-Bird is currently not functioning but hopes to in the near future. If you are interested in being advisor for this group please contact our Principal Paula Casperson.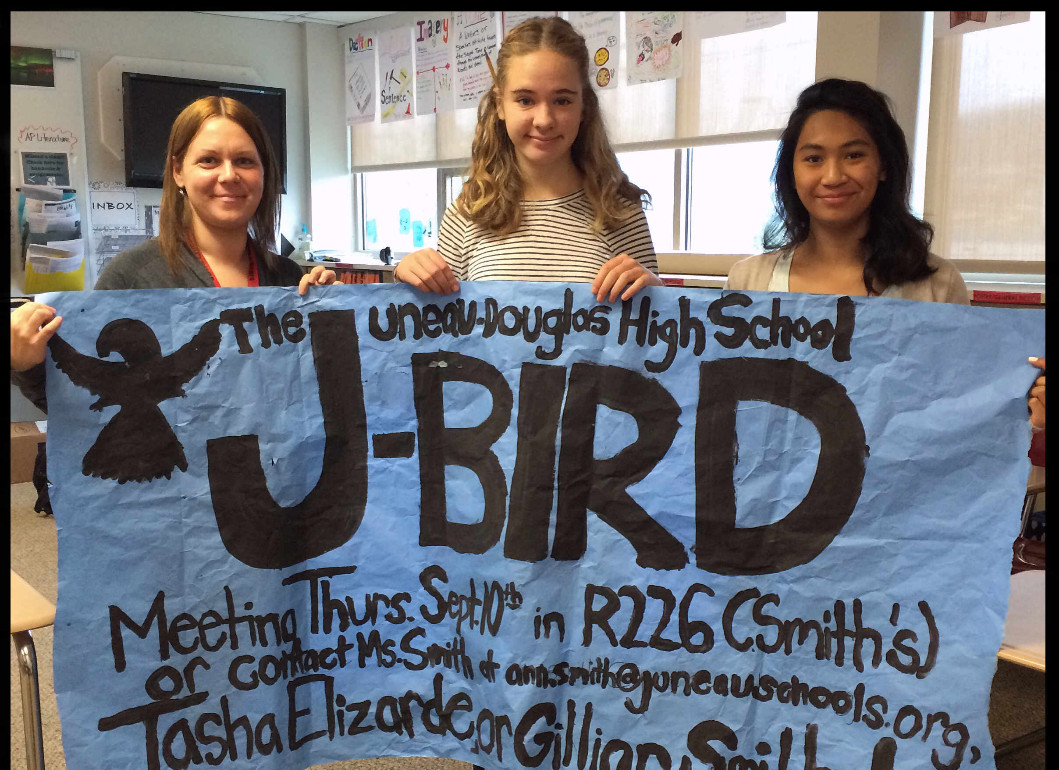 Above Left: Editor Tasha Elizarde

(left)

, J-Bird staff member Laurie Balstad

(right)

.
Above Right:

From left to right

: Student advisor Ms. Smith, Editor Tasha Elizarde, and J-Bird staff member Gillian Smith.
Poster created by J-Bird staff member Sian Gonzales.
Sources of Strength
9 months ago
Student Leadership
Sources of Strength is a student leadership program aimed at improving school climate.

We meet the 2nd and 4th Tuesday of every month at lunch in room 206. Students are typically nominated by staff and their peers however, if students are interested they are also welcome!
Doug Blanc 523-1515 doug.blanc@juneauschools.org
Hilary Young 523-1605
hilary.young@juneauschools.org
are the adult advisors that help with the program
If you are interested in joining, please contact one of them!

SOS Training Fall 2015
"Sources of Strength members Eliza Chappell and Keely Ewing record a
"Celebrate Sober" public service announcement Spring 2015 at the KTOO studios.
Click here to listen to the PSA announcement